This store requires javascript to be enabled for some features to work correctly.
A dream come true
"It is a dream come true to have Wildwood Oyster Co. bags walk the runway at New York Fashion Week. This collection represents my love for the ocean and my desire to create a functional, minimalist handbag that is fun to wear and makes people smile. It's an honor to be chosen to showcase our work among some of the most talented up and coming designers around the world."

Becky McKinnell, Founder and Designer
NYFW Interview with Becky
A: I'm so happy right now! That runway walk was a culmination of so many years of hard work. I can't think of a better way to celebrate five years as a brand than at New YorkFashionWeek! I am so honored to share space with such immensely talented designers.
A: That morning was emotional for me. Not only did I know my bags and jewelry were going to be out there for the fashion industry to see in a very big and new way, but I felt a big anticipation of knowing how many people were supporting me. My family and friends flew into NYC just for me plus our incredible community of social followers were watching. I wanted to make everyone proud, and I still get choked up by thinking about that moment. 
A: It was a moment of pinching myself seeing the bags and seaweed jewelry on the runway. The models were excited by the pieces, the clothing designers we collaborated with (Bye by Bitch, Reb Lab, and Arohi) were confident with our collaborations, and it was a feeling of confidence all around. I was beyond proud of what we've built and showed the fashion community. 
A: It was a wow moment! Seeing all those people, the cameras, the lights, I was shaking and so excited! Hearing all those people clap for me was beyond surreal, and it's a forever memory I'm so happy to have. 
A: The volume of people it takes to put together a fashion show. It was a whole new experience going backstage, and being part of that. It was a true collaboration between designers and models, and it was as fast-paced and intense as what you see on TV! It was amazing to see that moment where it all came together when the model hits the runway with their look that so many people made possible. The team at Flying Solo was absolutely incredible; that was around-the-clock work to make that go so smoothly - I give them such props.
A: One thing that was really cool is that we did a collaboration with a men's shoe designer, Gidi Sole. And that was the first time that we had done that. The men ROCKED our bags, and they had such amazing feedback. They especially loved the small crossbody tote, and it was an inspiring part of this show. 
A: The best kind of tired, but this wasn't just me behind this show. I never could have done it without my incredible team! It takes so many people to build a brand. Kitty and Kim were here at the start when I decided to make my first 100 bags for sale. They are still with me today and helped evolve our Wildwood Oyster Co. production and branding to scale. Lindsay Crawford, our Marketing Director and friend, came with me this whole trip. She really gets me and this brand, and was by my side to take all this amazing video content and be there for moral support. It was so wonderful to have Hilary here for press day. She is amazing with our customer service and wholesale customers, and she's such a big part of our brand. And then all of YOU were here. We felt your support every single minute we were here, and it meant everything to me. 
A: I'm really excited for this fall! We're moving into our new business model of more limited edition leather collections. We already decided on two more leathers that we're going to be launching in early fall and late fall! We are also very close to finalizing our next leather for the winter. Our customers will see a lot of new leather options and new product launches! I can't wait to share more with you all soon! 
Our collaboration with Indian designer, Arohi
Our Collaboration with Brazillian designer, Reb Lab
Our Collaboration with French designer, Bye By Bitch
Our Men's Collab with Canadian designer, Gidi Sole
Watch the Full Runway Show
More Behind the Scenes
Lindsay, Becky, and Hilary
interview time at Flying solo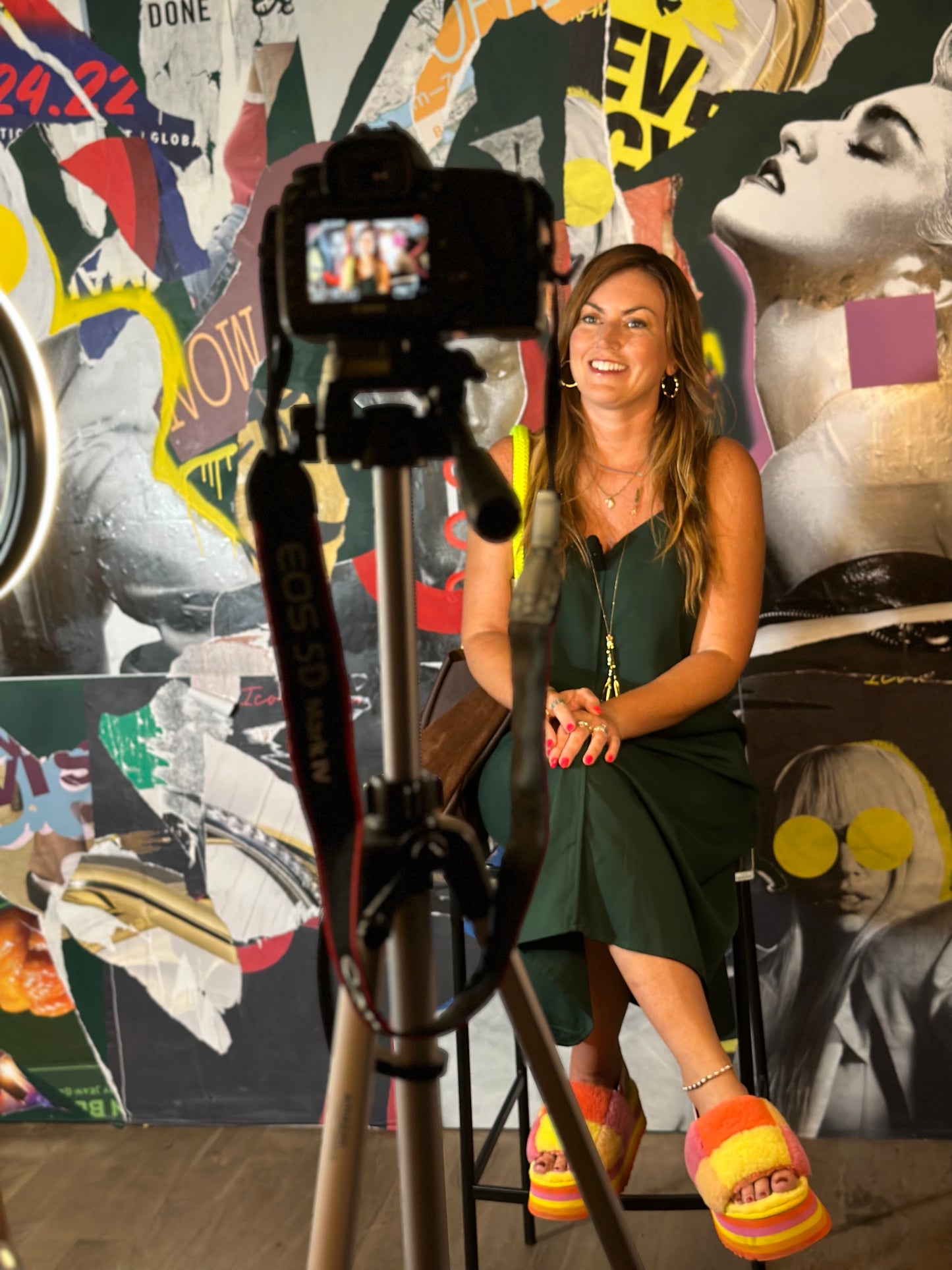 Becky and Lindsay on the Red Carpet
Arohi collab before the runway walk
Press